Hobart Ecomax Hood Dishwasher Install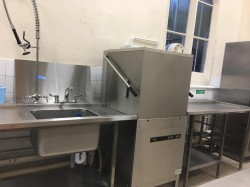 We recently installed a brand new Hobart Ecomax Hood Dishwasher for the kitchen staff at Great Chesterford Primary School . The project included a new sink, pre-rinse and end table replacing an old steriliser sink.
You can call us on 01223 506001 or email for free quotations and advice or why not pop into our shop for a chat and to pick up a copy of our latest catalogue.