Manor Leisure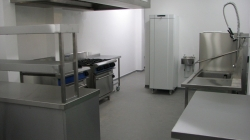 Manor leisure centre in Whittlesey is where Bob Hopper Ltd were asked to supply and fit a new commercial kitchen for Fenland District council. The centre boasts a sports hall, swimming pool with teach/flumes fitness & health studio sauna and steam rooms and now can cater for events such as weddings etc. with their new kitchen.
Bob Hopper Ltd supplied 2 x Blue Seal, 1 x six burner range and 1 x solid top unit, wall benches on castors and tabling. Dishwasher complete with pre rinse system and under counter glass washer complete with cleans and dirties tabling, fridges and mobile racking along with bottle fridges and hot cupboards with heated gantry's.
Bob Hopper Ltd also installed a gas interlocked hood extraction system with fresh air system. The completed job was handed over in mid September 2011
You can call us on 01223 506001 or email for free quotations and advice or why not pop into our shop for a chat and to pick up a copy of our latest catalogue.